Carbon Steel Pipes and Pipe Fittings
What is a CS Pipe?
Carbon steel piping is a robust material manufactured from carbon steel, a steel alloy containing iron and carbon. Carbon steel is often considered to be a more affordable alternative to stainless steel. Nevertheless, its advantages and applications often make it a top choice, rather than an inferior one, when it comes to pipe systems.
CS Welded Pipe and CS Seamless Pipe 
Seamless and welded pipes are produced from carbon steel. These carbon steel pipes can be managed by different types of fittings.
The CS Seamless Pipe is produced using straight hot billets passed through an extruded metal. A Welded Pipe is produced by welding the pieces of sheets or strips repetitiously.
A seamless pipe has a 20 higher strength-to-weight ratio than a Carbon Steel Welded Pipe. Welded pipes can be made in a wide variety of dimensions and sizes, whereas seamless pipes are restricted by a maximum of 24 inches.
Tips to find a trustable CS Pipe & Pipe Fittings supplier in India
To identify an authentic CS Pipe & Pipe Fittings supplier in India, you should consider these tips:
Look for carbon steel pipe & pipe fittings providers that have actually been in existence for some time in order to maximize the level of expertise as an outcome. Also, make sure you have looked at their certifications, to confirm that they have met the minimal requirements for the level of quality.
Ask for the stock information of the carbon steel pipe & pipe fittings which is applicable to your situation. They ought to have enough stock among their appliances to ensure that you can acquire the pipe and pipe fittings you require, without delay.
Read about the firm online and read past client testimonials. Try to find out whether the business is transparent in their dealings with clients. Look at their client servicing both online and offline.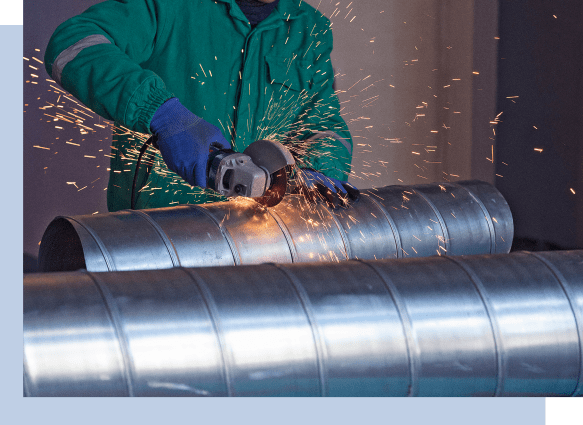 Industrial Application of CS Pipe & Pipe Fittings
CS pipes & Pipe Fittings are highly versatile and have excellent structural stability and corrosion properties. As a result, it can be used across a wide range of industries, such as:
CS Pipe Grades And Specifications
| Dimensions | ASME, ASTM, and API |
| --- | --- |
| | Welded / ERW / Seamless / Fabricated |
| | |
| | |
| | Minimum 3 to Maximum 18 Meters |
| | |
| | Beveled End, Plain End, Treaded |
| | Schedule 40, 80, 160, XS, XXS |
CS Seamless Pipes :-
Standard: ASTM A53, A106, API 5L, A179, A192, A210, A519, DIN2391, 2448/1629 /1630, etc
material: Gr. A, Gr. B, ST52, etc
Size: 10.3- 610mm OD, 1.0-40mm Wall Thickness, 12000mm longest length
Carbon Steel Welded Pipes :-
Standard: ASTM A53, A252, API 5CT/5L, DIN1626, ASTM A500, etc
Material: Gr. A, Gr. B, X42, X52, X56, X60, X65, X70, J55, K55, N80, etc.
Size: 21.3-2540mm OD, 2.5-20 mm Wall Thickness, 12000mm longest length
| Types | Wall thickness | Out diameter | Length |
| --- | --- | --- | --- |
| | Schedule 5 / 10 / 40 / 80 / 160 | | |
| Carbon Steel Welded Pipes Suppliers(in Stock + Custom Sizes) | | | |
| API 5L Carbon Steel Seamless Pipes Suppliers(Custom Sizes) | | | |
CS Fittings Specification
| Dimensions Schedule Carbon Steel Fittings | ASME/ ANSI B16.9, MSS-SP-43, ASME B16.28, BS1560, BS4504, BS4504, BS10 |
| --- | --- |
| Carbon Steel Buttweld fittings Thickness | SCH10, SCH20, SCH 120, SCH 140, XS, SCHEDULE 80, SCH 100, SCH30, STD SCH40, SCH60, SCH 160, XXS available with Standard NACE MR 01-75 |
| | |
| Carbon Steel Fittings size | Seamless Butt Weld Fittings: 1/2″ – 10″ Welded Butt Weld Fittings: 1/2″ – 48″ |
| Carbon Steel Fittings Types | Seamless / Welded / ERW / Fabricated Fittings |
| | R= 1D, 5D, 6D, 3D, 2D, 8D, 10D or Custom Fittings |
| | ½" NB to 24″ NB in Sch 10s, Schedule 40s, 160s, 80s, XXS. (DN6~DN100) |
| | |
| | Angle : 22.5 deg, 30 deg, 45 deg, 180 deg, 90 degree, 1.0D, 1.5D, 2.0D, 2.5D, 3D, 4D, 5D, 6D, 7D-40D. Standard: ASME B16.28, ASME B16.9, ASME B16.25, MSS SP-75 DIN2605 JISB2312, GB, ISO |
| | 90º Elbow, 45 degree Elbow, Crosses, Tees, Reducers, Pipe Cap, Stub End, Pipe Bend |
| | Fittings To Connect Pipe & Tubes in Petroleum, Metallurgy, Power, Construction, Gas, Chemical, Shipbuilding etc Schedule 40 fittings have a thicker wall for higher-pressure applications. Schedule 10 fittings are an economical alternative for lower-pressure applications. |
Countries We Supply Carbon Steel Pipe & Pipe Fittings  To
Steelco Metal & Alloys supply and distribute Carbon Steel products to countries like

United States

 Europe

Middle East
Africa
and more…
CS Pipe Fittings Sizes Range & Schedules
| | Carbon Steel ButtWeld Fittings |
| --- | --- |
| | |
| Most famous types Fittings | 90º Long Radius, 90º Short Radii, 45 degree Elbow, Concentric Reducers, Eccentric Reducers, Tees, Reducing Tees and Stub Ends Fittings |
| | |
CS Fittings Dimensions Standard & Weight
Product range and theoretical weights (kg)
DN

Schedule 10s

Schedule 40s

Schedule 80s
Weight Chart & Dimension of Carbon Steel Reducers, Tee (SCH 10s, 40s, 80s)
DN

Schedule 10s

Schedule 40s

Schedule 80s
CS Tube Fittings Dimension Table & Standard Weight
OD

OD Actual

Thread Designation - Nominal Size

Thread per inch
CS Pipe & Pipe Fittings Useful Information
Chemical & Mechanical Properties of CS Pipes
Standard

Grade

Chemical Components (%)

Mechanical Properties
| Property | Values |
| --- | --- |
| | 197 – 237 BHN (75 Ksi min) |
| Ultimate Tensile Strength * | |
| | |
| | |
| | |
| | 42 mean/ 33 min J at –18o C |
| | Schedule 40, 80, 160, XS, XXS |
Chemical Element Of CS Buttweld Fitting
Benefits of Carbon Steel Pipe & Pipe Fittings
Reliable Safety and Durability
Carbon steel pipe is both durable and affordable when it's utilized underground. This is particularly useful, since many other materials are easily deteriorated.
Structural Stability
Carbon steel pipe has a flexible structure that's used in different applications and conditions. The carbon steel pipe can support very heavy loads depending on the needs. Pipe walls contain various thicknesses and pipe diameters vary as well. These characteristics determine the elements of durability that the pipes have.
Budget Friendly
With little need for repairs and replacements, investing in carbon steel is a smart choice for almost any business. Its versatility also contributes to the cost savings, as steel is readily bent to fit where it is required to go. This means that you can get joints and valves at relatively low costs.
Competitive Advantage of Steelco Metal & Alloys
We enhance our industry operations by relieving you of the worries associated with freight forwarding.


An integrated approach to providing engineering services allows our clients to benefit from the commercial and logistical advantages.


We are one of the Nations largest automotive parts recyclers and a widely recognized leader utilizing advanced computerized techniques.

We'll work with you on your project, large or small. Together we'll fine-tune your new construction, remodeling or renovation plans.
Complete control over products allows us to ensure our customers receive the best quality prices and service. We take great pride in everything that we do in our factory.
We have Largest Inventory of Steel Piping
Product in all Sizes.
Owing to our trusted international network.
We can assure you the best quality products.
Explore our Carbon Steel Products
At Steelco metal and alloy we offer Carbon Steel Products. Which are being used in many different industries.