What is Duplex Stainless Steel?
Duplex stainless steels refer to a family of stainless steels that include a carbide mixture. Their metallurgical structure: austenite (face-centered cubic lattice) and ferrite (body-centered cubic lattice). They are called duplex (or austenitic-ferritic) grades due to the mechanical configuration.
How is Duplex Stainless Steel made?
Duplex stainless steel contracts after being heated to between 1470 and 1550°C (3000 to 3000 degrees Fahrenheit), transforming it into an alloy known as annealing. In annealing, duplex undergoes a slight change in the texture of its crystal structure, making its surface thicker and more ductile. After the process of producing duplex stainless steel is complete, it must be annealed (heat-treated) and pickled (treated to prevent corrosion) before it is ready for use.
What are the advantages of Duplex Stainless Steel?
Duplex stainless steel has a microstructure that contains both ferrite and austenite. When this material is heated to the point of melting, it solidifies from a liquid state to a pure austenitic structure. As it cools, approximately half of its structure changes to a ferrite phase. This results in an alloy with the structure of around half ferrite and half austenite. Duplex alloys have higher strength and greater corrosion-cracking resistance than ferritic alloys and a higher strength at low temperatures.
Countries We Supply Duplex Steel To
Steelco Metal & Alloys supply and distribute Duplex Steel products to countries like:

United States

Europe

Middle East
Africa
and more…
Duplex Stainless Steel Grades
Grade

EN No/UNS

Type

Approx Composition
Mechanical Properties of Duplex stainless steel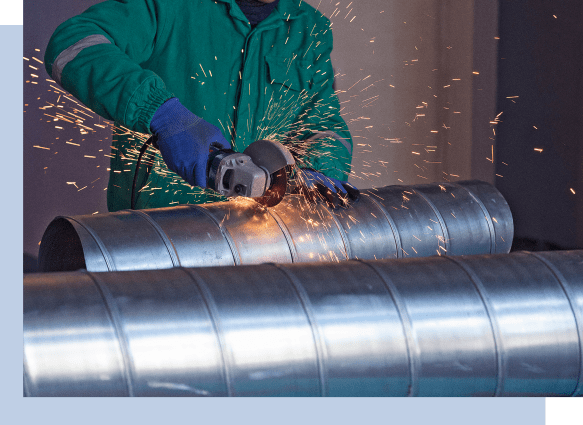 Industrial Application of Duplex Steel
Stainless Steel is highly versatile and has excellent resistance to heat and corrosion properties. As a result, it can be used across a wide range of industries, such as:
Physical Properties of Duplex stainless steel
| Property | 2205 | UR52N+ |
| --- | --- | --- |
| | | |
| Modulus of Elasticity (GPa) | | |
| | | |
| Electrical Resistivity (Ω.m) | | |
| Thermal Conductivity (W/m.K) | | |
| Thermal Expansion (m/m.K) | | |
Benefits of Duplex Stainless Steel
Corrosion Resistance
Duplex stainless steel is exceptionally resistant to intergranular corrosion. In chloride and sulfide environments, Duplex stainless steel has exceptional resistance to stress-corrosion cracking.
Heat Resistance
High chromium content allows Duplex stainless steel to withstand corrosion, resulting in brittleness at temperatures over approximately 300°C. Duplex stainless steels exhibit higher ductility at low temperatures. Alloys of this grade can be readily used down to approximately -50°C.
Welding
Duplex stainless steel has excellent weldability. All standard welding techniques can be applied. They are not quite as strong as the austenitic grades but low thermal expansion of the duplex grades reduces distortion and residual stresses after welding. Recommended filler material for 2205 stainless steel is 2209.
Competitive Advantage of Steelco Metal & Alloys
We enhance our industry operations by relieving you of the worries associated with freight forwarding.


An integrated approach to providing engineering services allows our clients to benefit from the commercial and logistical advantages.


We are one of the Nations largest automotive parts recyclers and a widely recognized leader utilizing advanced computerized techniques.

We'll work with you on your project, large or small. Together we'll fine-tune your new construction, remodeling or renovation plans.
Complete control over products allows us to ensure our customers receive the best quality prices and service. We take great pride in everything that we do in our factory.
We have Largest Inventory of Steel Piping
Product in all Sizes.
Owing to our trusted international network.
We can assure you the best quality products.